Past Leadership
Past Leadership
Rabbi Reuben Slonim, Z"L
Rabbi Allen Veaner
Cantor Henry Weingluck Z'L
Cantor Albert Feldman Z"L
Cantor Esther Ghan Firestone, Z'L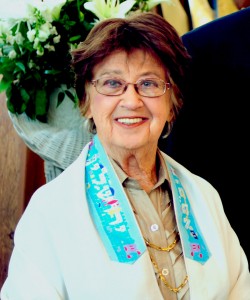 Esther Ghan Firestone was the cantor at Congregation Habonim since 1985. A celebrated opera singer, Esther delighted audiences across Canada with her exquisite voice and outstanding musical abilities. During services Esther sang all genres of Jewish music, including Chasidic melodies, solo cantorial pieces, and Israeli folk songs, touching the souls of those who are privileged to hear her from the bimah.
Esther passed away on Thursday, May 28, 2015. Please read a eulogy delivered by Eli Rubenstein, Congregation Habonim's Religious Leader here:
Other biographical information:
Esther Ghan Firestone, a soprano, cantor, and choral conductor, was born in Winnipeg. After training as a pianist in Winnipeg and giving several recitals in Manitoba, she began voice studies in 1944 in Toronto with Nina de Gedeonoff and at the TCM with Emmy Heim.
In 1948 she won second prize in an international scholarship contest sponsored by Carnegie Hall. She made her CBC radio debut on 'Canadian Cavalcade,' sang (949-51) on 'Starlight Moods' and other CBC series, and starred (1957-60) on CBC radio's 'Stardust'. She gave her first Toronto recital in 1950 at Eaton Auditorium.
She made her operatic debut as Musetta in La Bohème (1951) with the CBC Opera. Her extensive concert career has included performances with the TSO (1970), and the CNE Bandshell concerts (1970).
The only woman cantor known to have been active in Canada from 1950, she has held positions in Toronto at Beth-El Synagogue (mid-1950s to mid-1960s), at Temple Emanu-El (1977), and at Congregation Habonim (1985-2015). She is a member of Kol Nashim, a sextet of female lay cantors formed in 1987. She also has conducted the YMHA Choral Group, the Toronto Hadassah Women's Choir (1967-74), and in the 1980's, the J.C.C. Singers, who recorded folk songs in 1984.
She is also co-founder and conductor of the Habonim Youth Choir whose recording, "Songs for the March of the Living" gained international recognition. In 1971 and 1973, with three of her children, she recorded Let's Sing English Songs, a collection of 52 songs for distribution in Japan by the Tokyo Kodomo Club.
Thu, September 21 2023
6 Tishrei 5784
Thu, September 21 2023 6 Tishrei 5784